Mapme lets you easily display 3D buildings on your map to provide an amazingly immersive user experience.
There are 2 options to add 3D building to your maps
Show all building in 3D
To enable 3D Buildings on your story map, go to:
Settings > Map Settings > Additional Settings and enable the 3D buildings feature.
3D buildings start to display on the map at the zoom level of 15 and above.
The opacity and the colors of the 3D buildings will change with the zoom level. It is optimized to provide the best user experience.
Check this example of story map with 3D building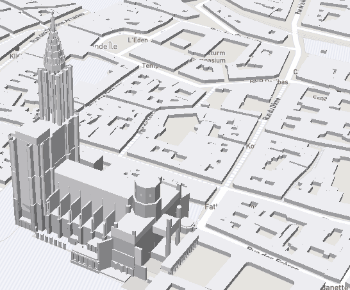 Show specific 3D buildings
Instead of showing all buildings in 3D, you can select specific buildings you would like to display in 3D on your map. This can be very useful when you want to highlight a specific building in a dense area.
In the location editor, click on  "Show 3D building for this location" and enter the building ID. Learn how to find building IDs.
If you would like to display multiple buildings, separate each building ID with a comma.

3D Building Coverage
3D buildings are available for many cities across the world. The coverage is always improving.
You can also add new 3D buildings or enrich the details of existing buildings.